So you discovered you have mice in your house and need to get rid of them right, so what better way than to use mouse traps? But you also maybe don't want to kill the little fellas as they're just living their lives. So you decided that you want to use humane mouse traps to get them? That's a good idea. I did the same thing in my house when I had problems with mice. But what are the best humane mouse traps with highest success ratio? I'll show you below.
Every mouse is different and behaves differently towards mouse traps, so you will most likely need to test several different mouse traps to see which one works best for you.
Your success in catching mice will depend on what type of mouse bait you use. I wrote a guide on the best bait for mouse traps that you can read. But if you got that part figured out, then you're ready to get a nice humane mouse trap.
These are all basically live catch and release mouse traps. How they operate varies from one mouse trap to another, but basically the goal is for the mouse to enter the trap while the doors will close. Some mouse traps have one way only doors while most utilize doors that shut close once the trigger is touched.
Remember, when putting these mouse traps, the location is very important. In addition, you will want to make sure to place it along the wall or baseboards as that's where the mice usually roam around.
When using humane catch and release mouse traps, it is critical that you check them multiple times per day and release the mouse as soon as possible. Mice that are stuck in a trap, even humane ones, for too long can easily die.
Havahart Live Animal Two-Door Mouse Cage Trap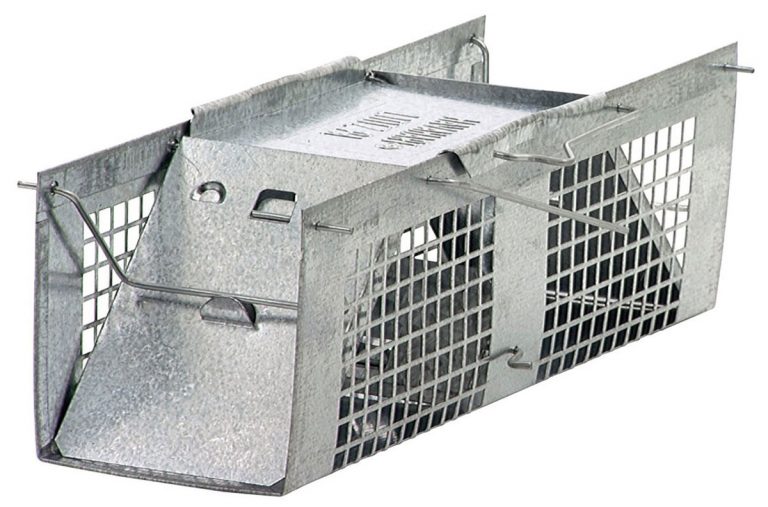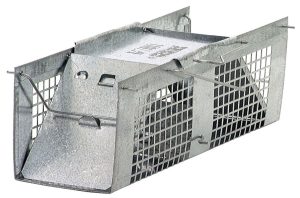 Havahart is a company that only makes humane mouse traps, so it's not surprising that this is one of my favorite live catch and release mouse trap. It is one I've had most success with as well.
Is it safe to say this is one of the best humane mouse traps? I would be okay with that statement.
This mouse trap contains two doors, one on each end so it gives the mouse two openings to enter from. If you prefer, you can also keep one of the doors closed, however, it seems to work much better when both doors are open. My theory with this is that the mouse maybe think they can go through it, and since the trigger is in the middle of the trap, they hit it and the doors shut on them.
The Havahart mouse trap is made from 100% metal construction so there's no way a mouse is going to chew its way through it like on the other plastic traps.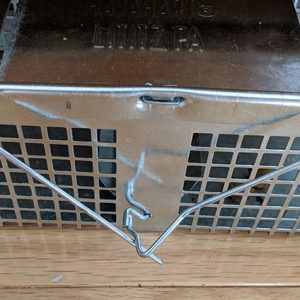 The only thing you might have a difficulty with is setting the trigger because it is VERY sensitive. It is a hair trigger after all. If you set the trigger before you place it in the desired location, there is a good chance you will trigger it shut before you even set it down. So I would suggest setting the trigger in the final location so that you don't have to move it later on.
If you're setting this trap in an open location, you should be aware that anyone can trigger it to close. Just a slight vibration, and you have to reset it again. So if you have kids or pets, they can close it by accidentally touching it or slightly nudging it.
This mouse trap is great for small or larger mice. Because of the hair trigger, I was able to catch mice as small as 1.5 inches with this. Those mice were so light that they didn't even activate the trigger in the other mouse traps.
Victor Multiple Catch Humane Live Mouse Trap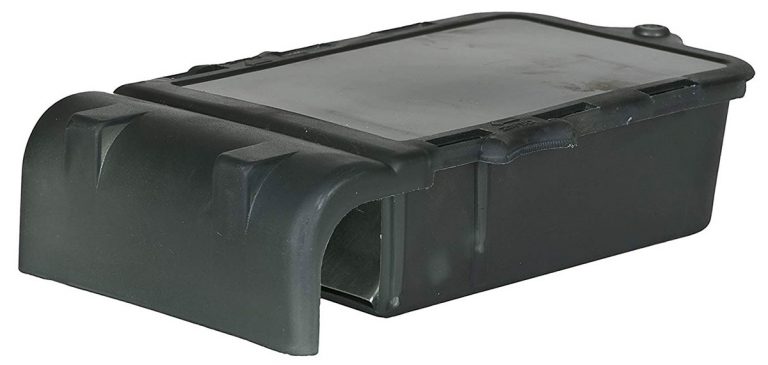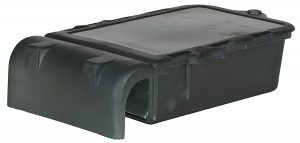 The Victor humane mouse trap is one I had high hopes when I first used it. The idea that you can catch multiple mice at the same time was very exciting.
This mouse trap is constructed of mainly plastic material, except the one way doors, which are made from metal. It is basically a rectangle with a path inside that goes around the rectangle. The way it works is once the mouse goes through the first set of doors, the second set of doors keeps the first closed, so the mouse can only go forward.
Due to its plastic construction, there have been many reports of mice simply chewing and gnawing their way out of the trap. Unfortunately, the top cover is not very sturdy so it allows that to happen pretty easily.
One solution is to take some duct tape and tape the top cover until you have to release it. This would make the trap more difficult for mice to escape out of.
HARRIS Humane Mouse Trap, Catch and Release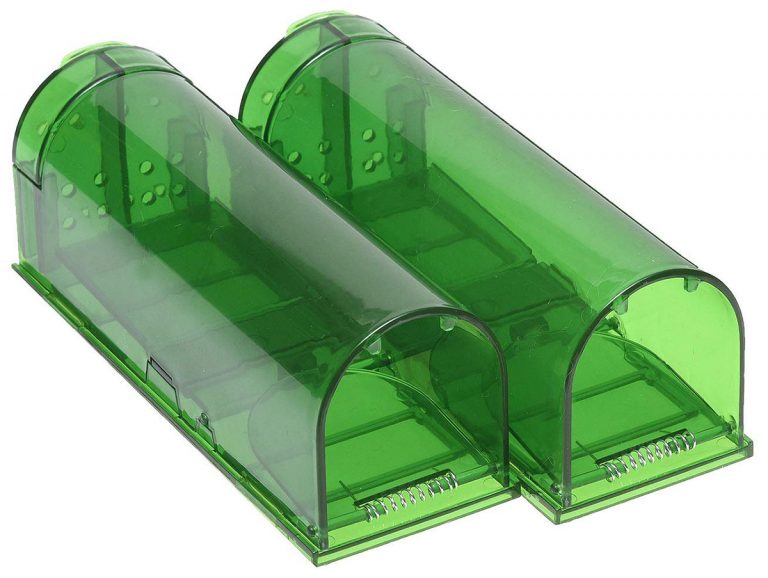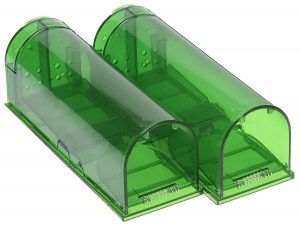 The Harris humane mouse trap is another trap I like very much. It is very easy to set up and the material, although plastic, is harder plastic so makes it almost impossible for mice to chew through it.
This trap has a special bait compartment at one end while the door is located on the other end. When you push the doors down, they are set in place, and then when the mouse goes inside, he activates the trigger which closes the doors.
I would prefer if they made this trap a little longer in size because I have caught a mouse with it before and its tail was caught in the door. Although he seemed to be OK once I released him, there are reports of mice chewing off their tails when they get stuck in similar situations.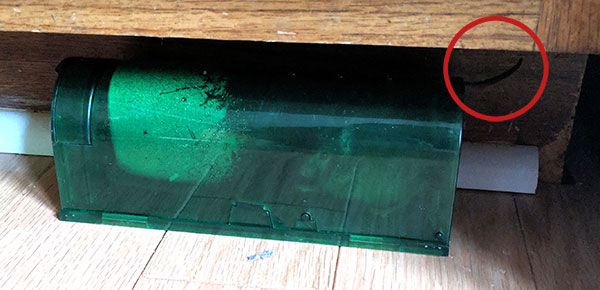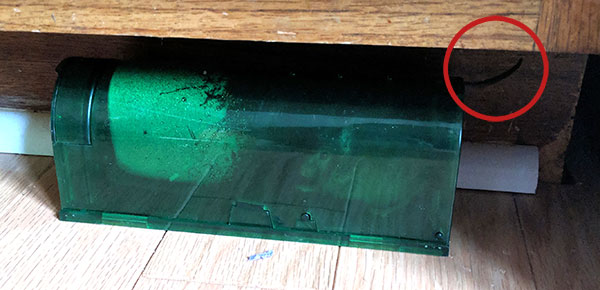 Another thing I would prefer is if this trap was more see through. Even though you can kind of see through the green plastic material, it is sometimes hard to tell if there's anything in there. Most of the time if you catch a mouse with it, his breathing will fog up the trap so you will be able to tell that way.
The trigger on this mouse trap is not overly sensitive which means it will not work great with small light mice. I have seen a small mouse on my camera go inside this trap and come out with no trigger action.
Tomcat Single Catch Live Mouse Trap


Tomcat is a big name in the mouse and rodent control industry, so it's not surprise that they would have a humane mouse trap on the market as well.
This is a one mouse trap that can be reusable. The design of this trap is pretty clever because it doesn't have traditional doors that close shut using springs or similar methods. The trap works based on gravity. There is basically a compartment tunnel in the middle that's held on each side. One side lets this tunnel rock back and forth gently if there's weight in there. The other side is the door that closes automatically when the tunnel shifts to the end end.
So how does it shift? Well the weight of the mouse will do that part. As the mouse moves to the opposite end of the doors to get the bait, he will gently rock the tunnel forward making the close gently close behind him.
Two gripes I have with this mouse trap is that it is made with black plastic, so there's no way to know if it caught a mouse or if it was falsely triggered. The second thing is the plastic feels pretty cheap and there are several reports of mice chewing through it.
Authenzo Humane Mouse Trap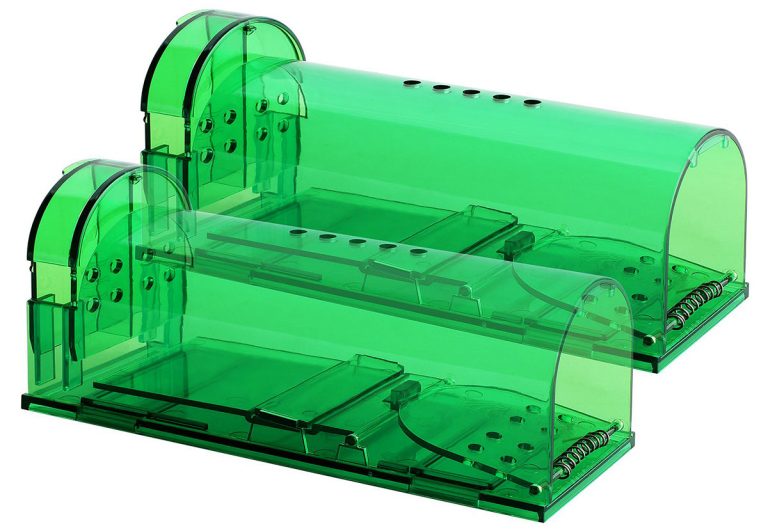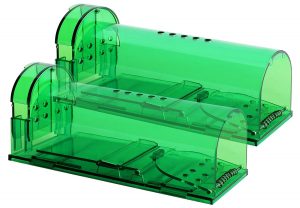 The Authenzo catch and release mouse trap is very similar to the Harris mouse trap above, except it improves on the design a bit. The main difference is the extra air holes they added on top of the trap for extra air circulation. There have been reports on mice suffocating in these types of traps because they run out of air.
My guess is if there are only a limited number of air holes, the trapped mouse could potentially cover the air holes with its body and thus inadvertently suffocate itself.
Other than that, this mouse trap works exactly the same as Harris one. The door is attached to the spring and the bait stand is what closes the door when mouse steps on it. The other end has the release door which also serves as bait compartment so that it is easier to clean up. This also ensures the mouse cannot escape with the bait without the door closing.
CaptSure Original Humane Mouse Traps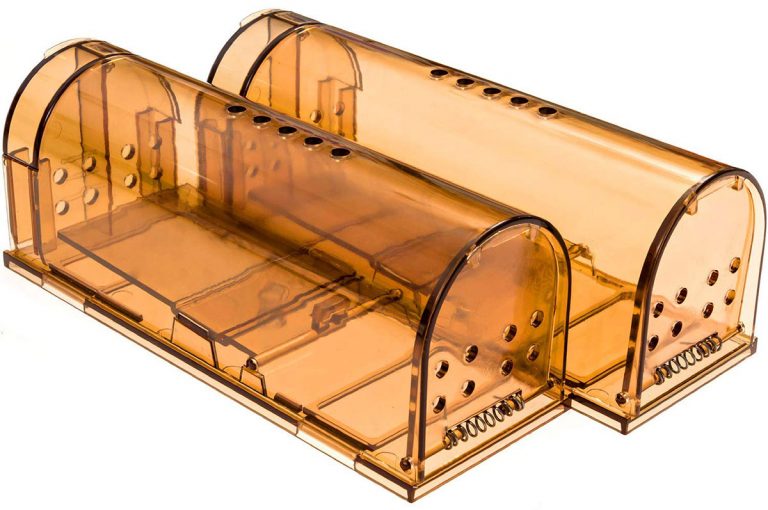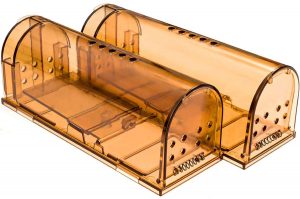 This CaptSure mouse trap is just about identical to the Authenzo one and very similar to Harris mouse trap. So why did I include it in this list? The only reason it is here is because I believe it improves on those two mouse traps due to the color and see-through of it.
The trap is constructed of the similar hard plastic material, but in this case, it is very light tan color which is much easier to see through. You have no idea how much it sucks to set up a mouse trap and then find it difficult to know whether there's a mouse in there or not. This mouse trap fixes that.
Other than the color and see-thru of it, everything else is mainly the same. The door is connected to the spring which clicks into the latch when set. Then when the mouse walks onto the bait stand (fulcrum), it releases the door from the latch.
Although they improved on the color of it, they did not improve on the risk of getting the mouse's tail trapped in the door. I wish the 6.7-inch length was made longer by a couple of inches to prevent that from happening. I think somewhere around 9-10 inches would be the sweet point. The Havahart humane mouse trap is exactly 10 inches in length and trapping the mouse's tail has never been a problem with that trap.
Kensizer Small Animal Cage Trap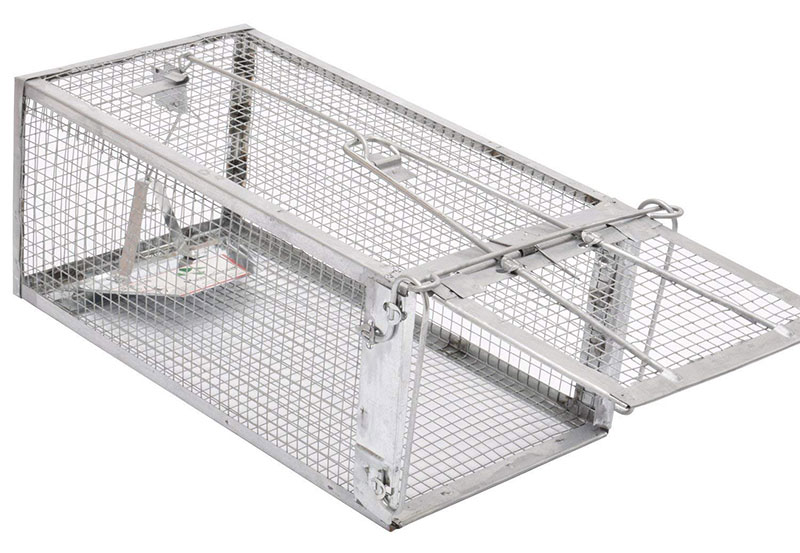 The Kensizer Live Cage trap is very similar to the Havahart trap, except it is way bigger and the trigger is not as sensitive. This trap itself is the largest on this list, and that's probably because it is advertised as being best for rats and chipmunks. In my experience, I would agree that this trap is probably an overkill for catching mice and the trigger is large and heavy that it might not be triggered by tiny little mice.
Other than that, this is a really nice humane mouse trap. The trigger is easy to set up, and the trap itself is pretty light so you can move it even with trigger activated. When the trigger is active, the front door is opened upwards, which is very nice and allows a large opening for mice or other animals to come in.
Unfortunately for my test, this mouse trap did not deliver great results. Part of it could have been that my mice have just become too smart for cage traps at this stage, or it could have been that the trap was not sensitive enough. Either way, I would go with one of the smaller traps for mice.
Overall, I'd say this is not one of the best humane mouse traps because of the poor success rate I had with it.
Mouse Mansion Trap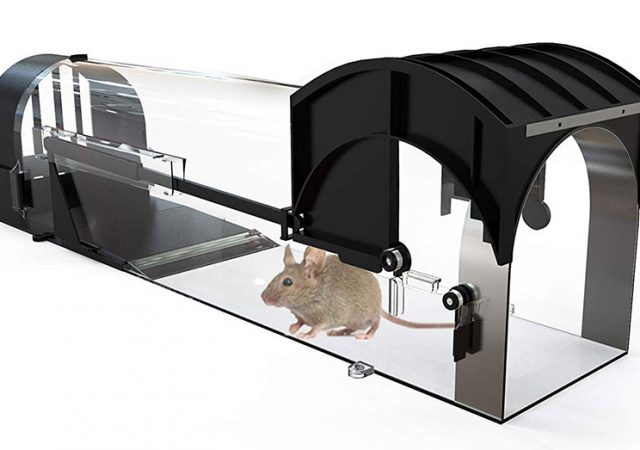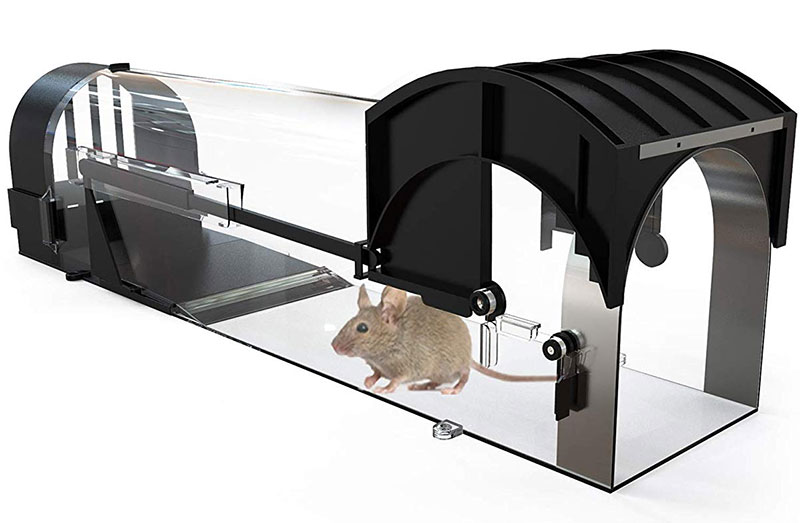 The Avantina Mouse Mansion trap is similar to Harris, Authenzo, and CaptSure models, except it expands on some of their weaknesses. For example, it is a much larger and longer trap so the mouse tails are less likely to get stuck on the door. This trap also utilizes a different trap mechanism. Instead of the door that is pressed down into the bottom, which springs back to closed position, the door on this one opens upwards and on top of the trap.
It is called the mouse mansion for a reason and it's because mice have a lot of room to roam around and explore. My success rate with this mouse trap is similar to other plastic ones. So while I caught some mice, I found other mice which were weary of enclosed spaces such as these traps.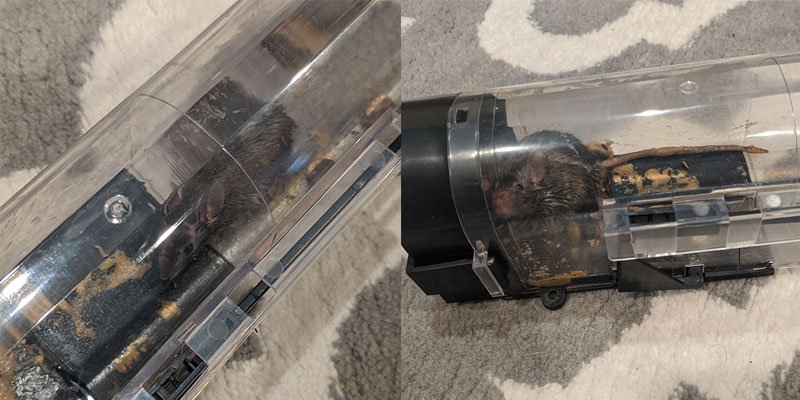 Overall, I would highly recommend this mouse trap over the other plastic ones just because it is larger, easier to operate, and transparent, so you can easily see if you caught a mouse or not. Another plus is that the door is black, so you can see when it is closed or open without much effort.
Pawmate Rolling Mouse Trap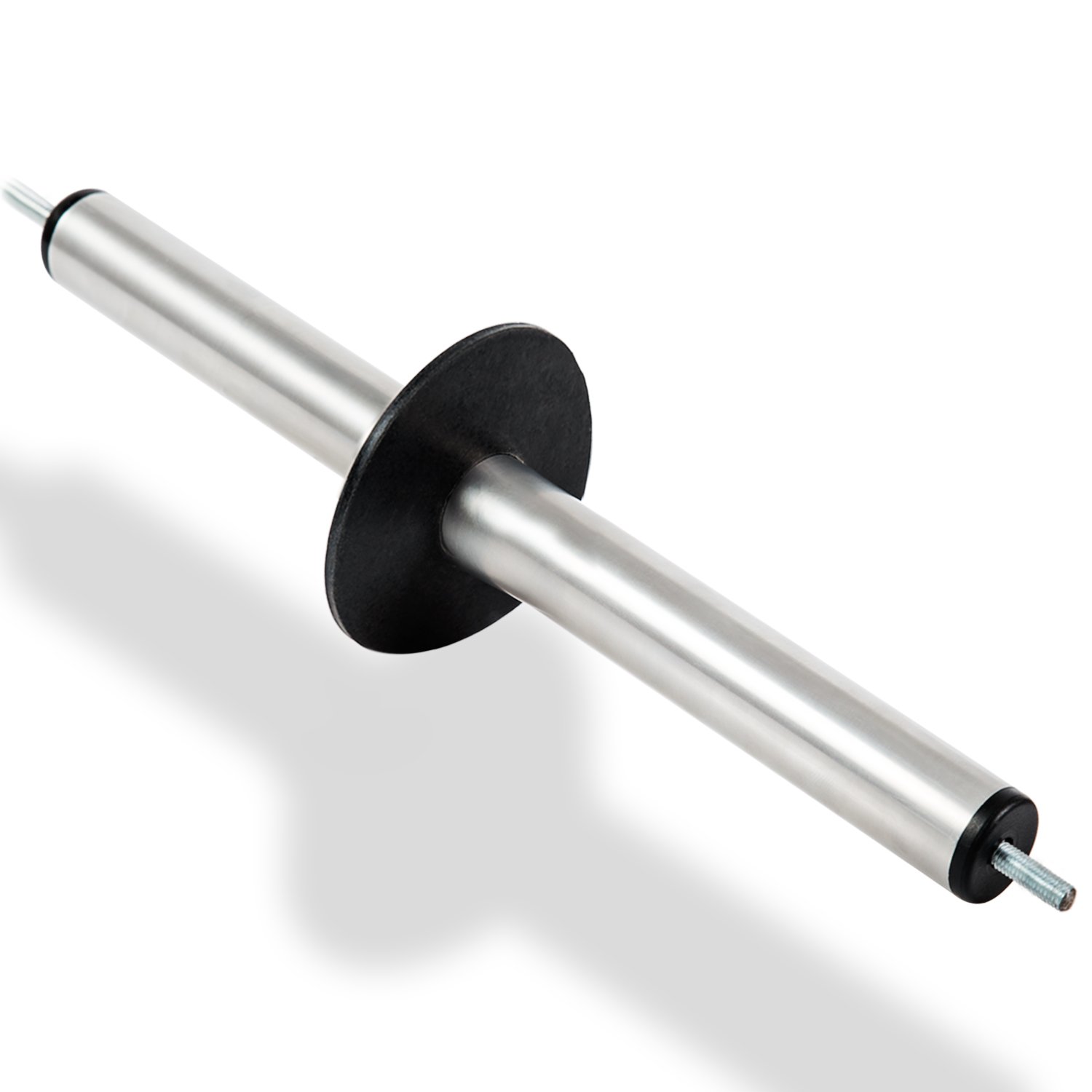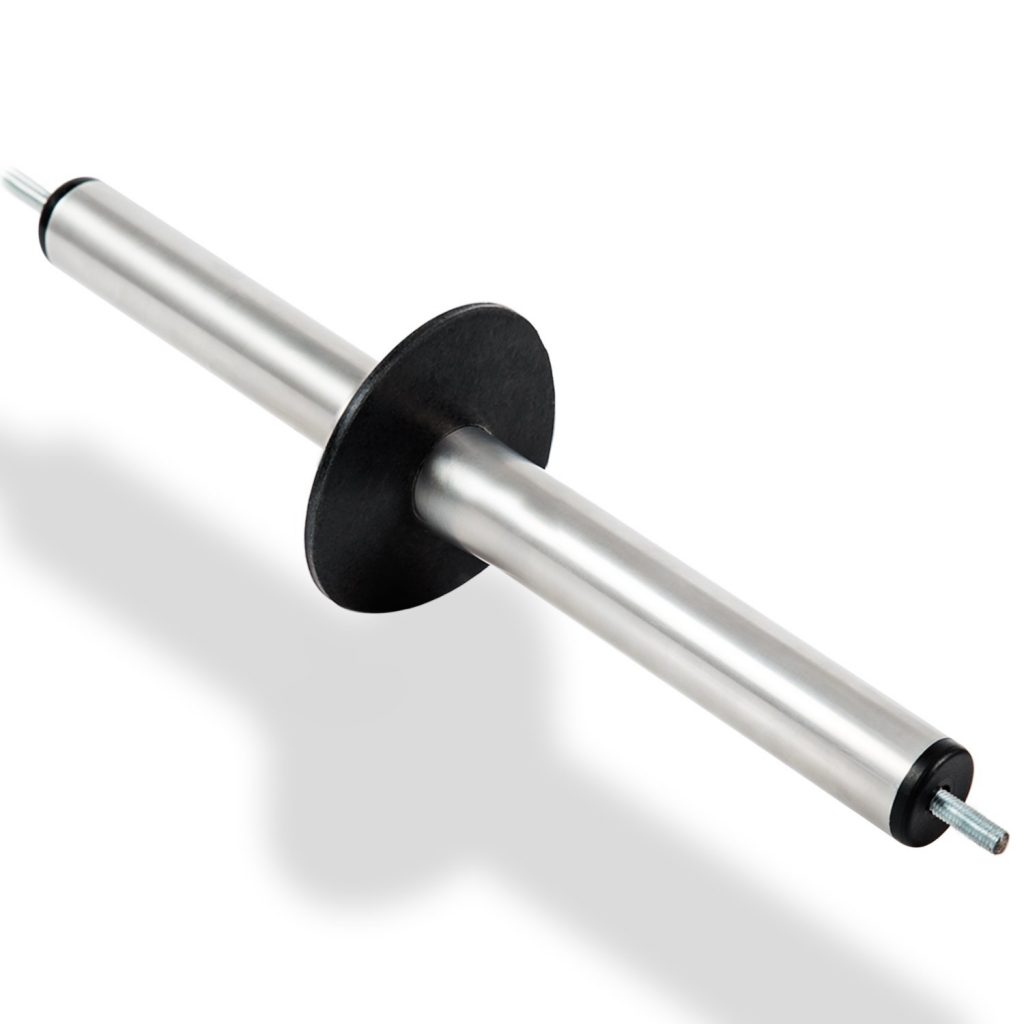 The Pawmate Rolling Mouse Trap is unlike any other mouse trap on this page. That's because it is not a trap by itself. It takes a bit of work to get it to function. It is basically a smooth metal roller, with bolts on each end, which is attached to a bucket. You then need couple of wood planks or hard cardboard to make a ramp to the bucket so that the mice can climb up. Once they start walking on the roller, the roller turns and they fall into the bucket.
The bucket and wooden planks are not included. So you need a normal 5 gallon bucket. I used one from the Home Depot. Depending on how big your mice are and how good their jumping abilities are, you might need a deeper bucket.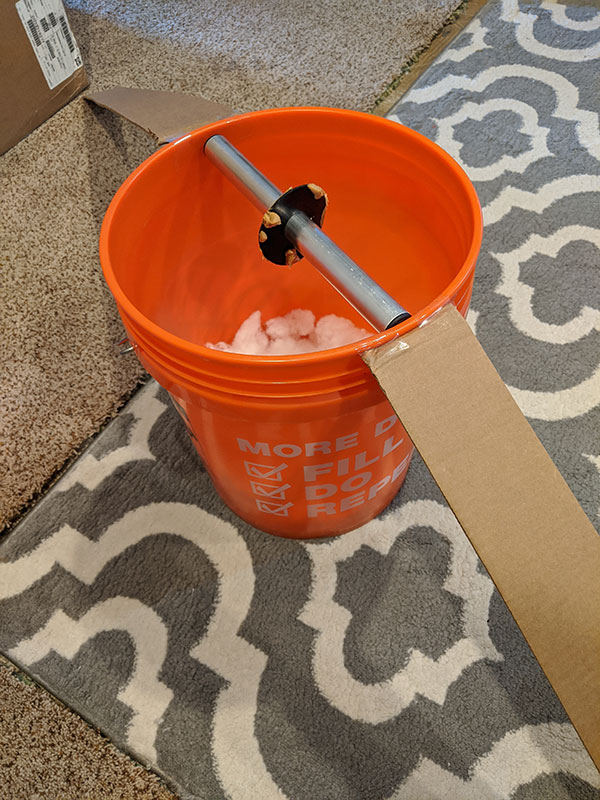 Some people use it as a kill trap by filling the bucket with water so that the mice drown, but obviously I did not. I just put cotton on the bottom so that they have a soft landing and plus they have some privacy when they get there. You can use various other materials such as shredded paper, wood dust, and so on.
I find this method of mouse trapping works best for outdoors or garage mice. Because they need to climb the ramps to get into the bucket, you need mice that are either very hungry or very adventurous. The regular ol' mice in your kitchen probably will not be interested in taking this bucket challenge.
That's all folks! I hope you enjoyed reading my list of the best humane mouse traps (ones that I had success with). Please give these a try and let me know in the comments how well they worked for you!